Can I use my booking tool straight away?
Yes, as soon as your setup is finished and you have added your service(s), your booking tool will be immediately ready for your customers to make online bookings.
All you need to do is to follow the instructions to add the tool to your website or Facebook page, which can be found in the Online Bookings section.

Using the left navigation menu, go to > Online Bookings > Website Integration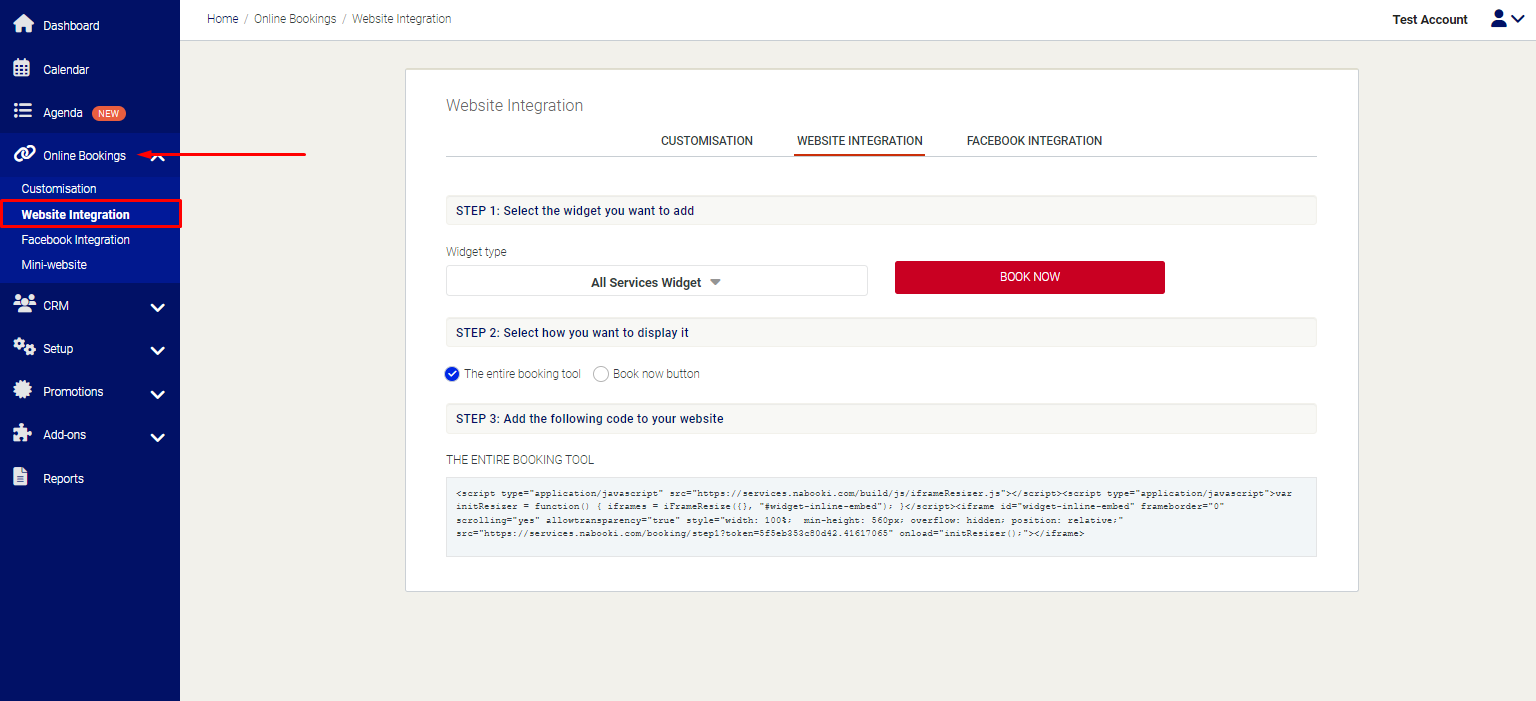 Related link:

Need assistance? Our dedicated support staff are here to help you.
To create a support ticket,
click here
.
Live chat: Start a live chat with our customer support team by clicking on the '?' button in the lower right corner.
Related Articles

How to use session check-in feature?

Please note: Setup must be complete and the service must be configured to have check-in required. The check-in feature is the ability to deduct customers active session if they didn't book and show up. You may use the check-in feature for ...

How to manually add a booking

Different ways to manually add a booking to your Calendar 1. Adding a booking using 'Add new booking' (+) button in Calendar Using the left navigation menu, go to > Calendar > click on the '+' button to use the booking tool to add a booking. 2. ...

Promotional Booking

You will have the ability to add promotional booking or deal based on an existing service or a new one. Using the left navigation menu, go to > Promotions > Internal > Add new promotion. Edit section of the internal promotion created will display. If ...

How to add the booking widget to your website

Steps on how to add booking tool to your website 1. Log in to your nabooki account. 2. From the navigation panel on the left side of your screen, please click Online Bookings. 3. Click Website Integration 4. Select the 'All Services Widget' to ...

Pencilled-in booking

Please note: Setup must be complete. Pencilled-in booking is an option for new bookings added via the Calendar. This prevents confirmation emails from accidentally being sent when adding or moving bookings.Notifications can still be sent by selecting ...