How to change a booking type to either instant booking or booking request
Whenever a service is added, the "Booking type" can be redefined to be an Instant booking (the default selection) or a Booking request.

Selecting I
nstant bookings
allows customers to book automatically on the available time slot within your booking tool.
Selecting B
ooking requests
means you (the merchant) will receive an email asking you to accept or decline the booking requested by the customer.
Using the left navigation menu, go to >
Setup
>
Services
> press the '
...
' button >
Edit
>
General
tab >
View advanced settings
>
Booking type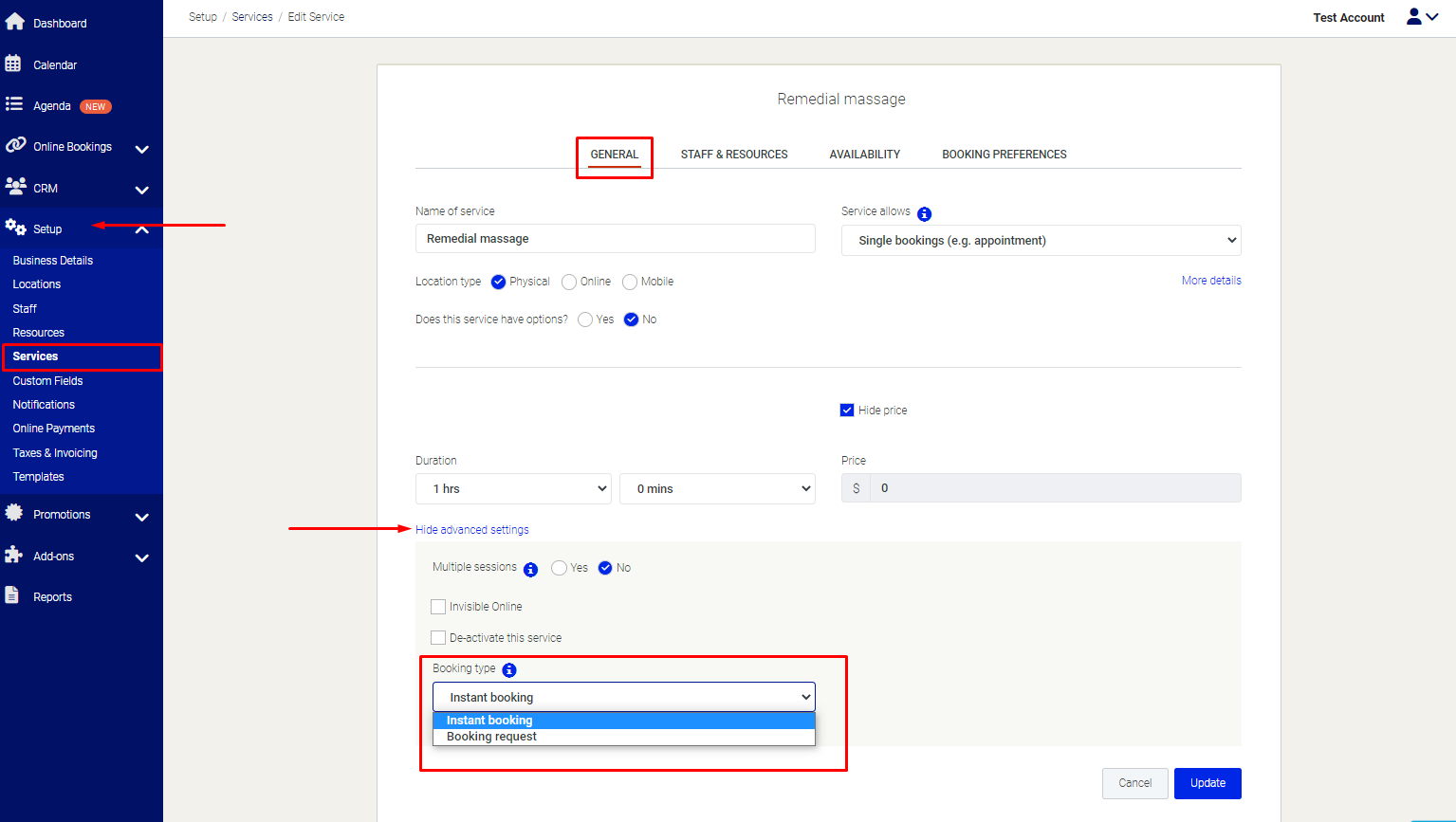 Please note that if a service has multiple sessions, sessions will be booked instantly and setting the booking type to 'Booking request' is not an option.
Need assistance? Our dedicated support staff are here to help you.
To create a support ticket,
click here
.
Live chat: Start a live chat with our customer support team by clicking on the '?' button in the lower right corner.
Related Articles

How to change or cancel a booking

Modifying or cancelling a booking is an often occurrence that when done can be set to notify or not notify the customer. You can alter a booking by either navigating through the Calendar or by searching by name, mobile or booking id in the search ...

Request online payment

For diary bookings or if the customer made a partial payment at the time of booking, the merchant will be able to request an online payment. Using the left navigation menu, go to Calendar > search booking by name, mobile or booking ID. On the booking ...

How to change your booking capacities

Booking capacities set the limit for how many individuals can be in the class or schedule. Different ways to change capacity for a scheduled session: 1. For a particular session If you wish to receive less or more bookings on a particular date or ...

How to change booking cut-off time, allowable cancellation time and booking time frame

Please note: Setup must be complete and the service that is having its booking cut-off time and allowable cancellation time change must be already setup. Booking cut-off time and allowable cancellation time can be configured to suit the merchant's ...

Promotional Booking

You will have the ability to add promotional booking or deal based on an existing service or a new one. Using the left navigation menu, go to > Promotions > Internal > Add new promotion. Edit section of the internal promotion created will display. If ...