How to purchase SMS credits and check the balance
You can purchase SMS credits in the 'Billing' section under your user profile.

Navigate to User Profile > Billing > SMS Credits > Purchase SMS credit/Update.

Update button is for merchant who already purchased SMS credit before, clicking this will automatically use the same card that was used before.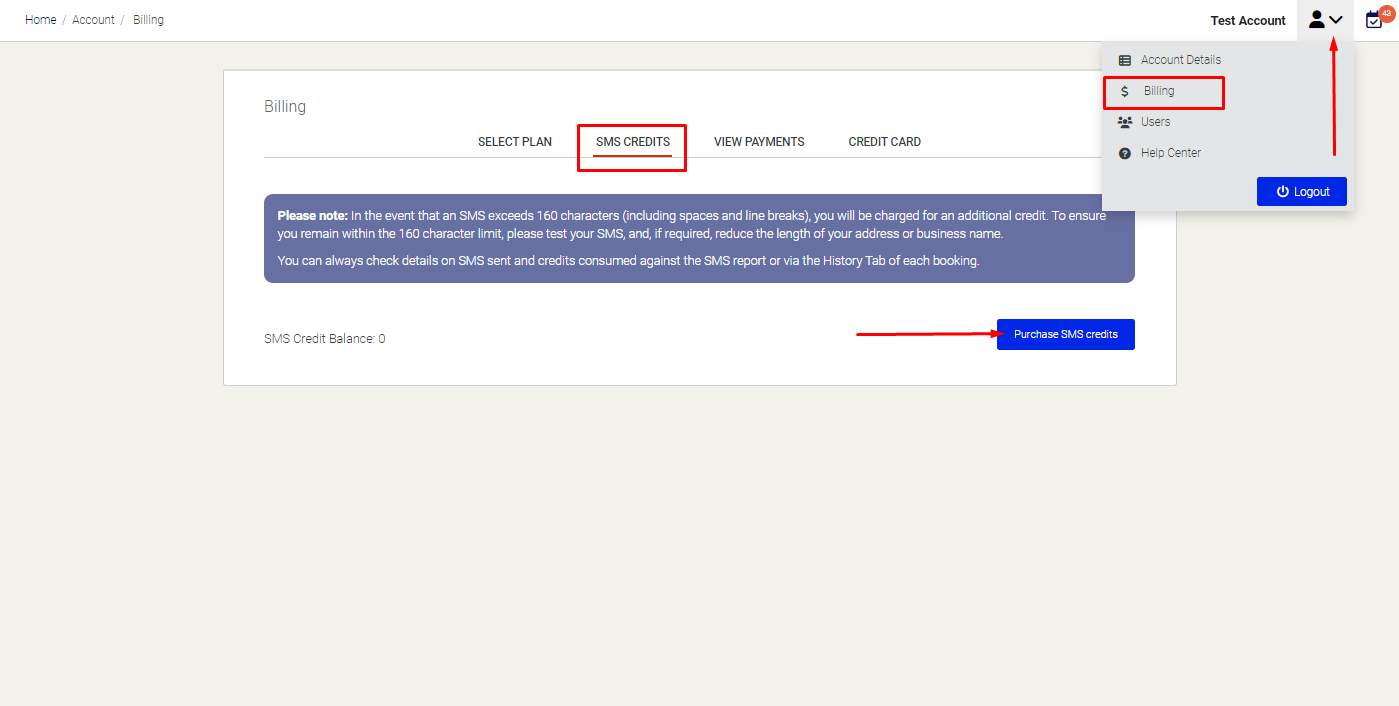 Is there an expiry date for SMS?

No, your SMS do not have an expiry date.

How do SMS bundles work?

You can buy SMS in bundles of 100, 1000 or 10,000.

When 1 SMS notification is sent or received, your SMS balance is automatically adjusted by 1 credit. Please see image below for SMS pricing.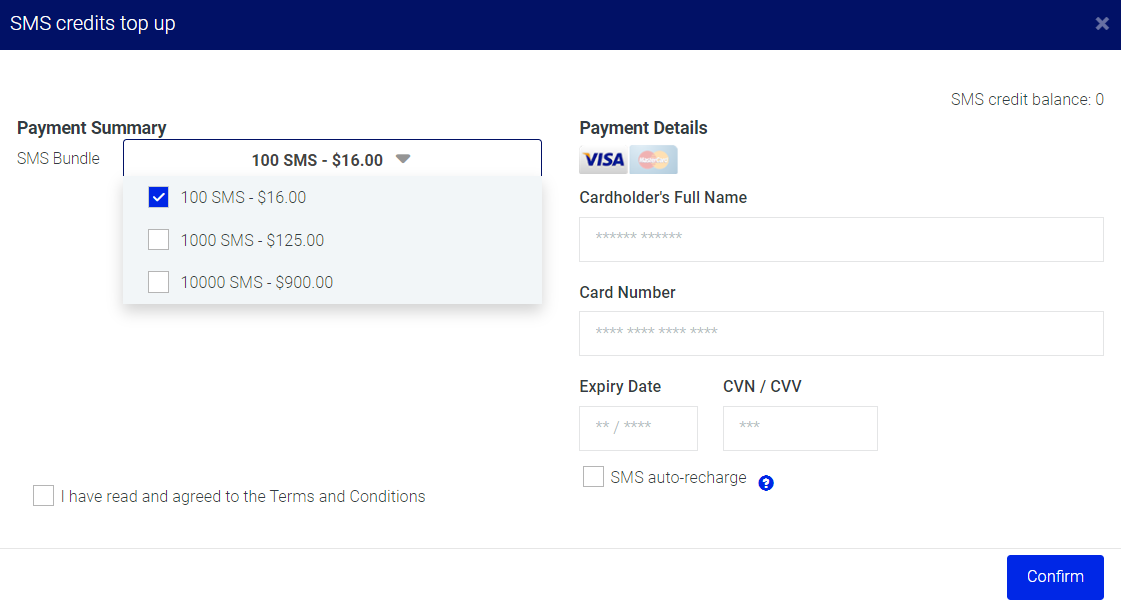 Please note: In the event that an SMS exceeds 160 characters (including spaces and line breaks), you will be charged for an additional credit. To ensure you remain within the 160 character limit, please test your SMS, and, if required, reduce the length of your address or business name.

You can always check details on SMS sent and credits consumed against the SMS report or via the History Tab of each booking.

Need assistance? Our dedicated support staff are here to help you.
To create a support ticket,
click here
.
Live chat: Start a live chat with our customer support team by clicking on the '?' button in the lower right corner.
Related Articles

How to use session check-in feature?

Please note: Setup must be complete and the service must be configured to have check-in required. The check-in feature is the ability to deduct customers active session if they didn't book and show up. You may use the check-in feature for ...

How to view and export the SMS report

Please note: Account set up must be complete and SMSs must have been sent out in the selected date range. SMS report is a data report for the merchant to view details of SMS being sent out such as date and time, booking ID, mobile number, SMS count, ...

Do customers get reminders for their bookings?

Customers get a reminder email and/or SMS 48 hours prior to the scheduled session. Bleow image is a sample email reminder sent out to customers. SMS confirmations require pre-purchase of SMS credits. Contact Support Need assistance? Our dedicated ...

What notifications will customers receive?

Customers will get a booking confirmation email and/or SMS immediately after completing a booking depending on the merchant's settings. The email will appear as below: Additionally, customers will receive a reminder email and/or SMS 48 hours prior to ...

Where do I update my notification settings?

Please note: Set up must be complete. Businesses need different options when to notify their customers of bookings. This is why you can manage email and SMS notifications. Using the left navigation menu, go to > Setup > Notifications Email ...