How to set up Google Calendar
Nabooki allows for two-way sync with Google Calendar so you can continue to manage your business while away from the office.

Once activated, all bookings in your Nabooki Calendar will be displayed in your Google Calendar and updated in real-time. Any changes made to bookings or new events created via Google Calendar will also appear in your Nabooki Calendar in real-time.


Enabling Google Calendar


Using the left navigation menu, go to > Add-ons > Google Calendar > toggle 'ON' the two-way Google Calendar sync. You will then be prompted to sign in to your Google account and allow permission for Nabooki to manage your calendars and view your email address.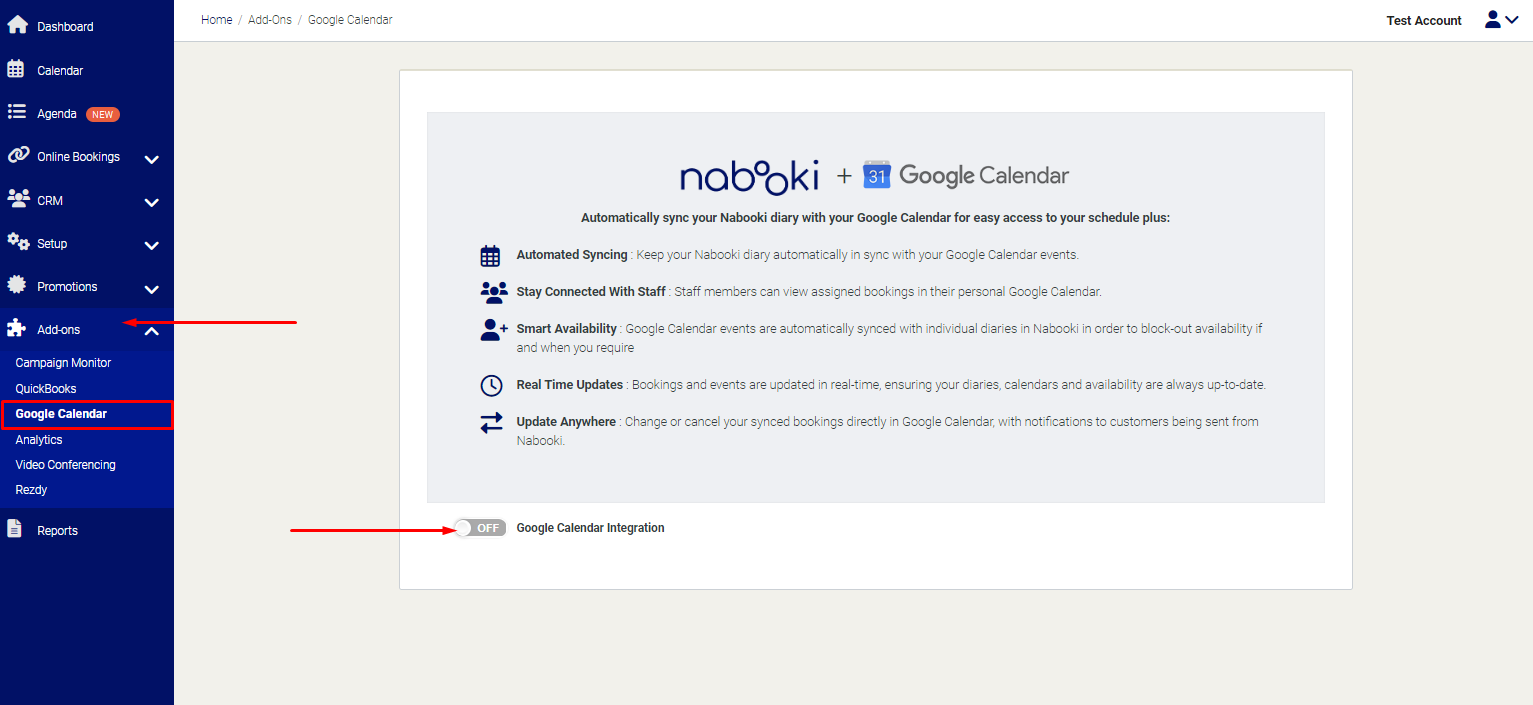 One or two-way sync


One-way sync only allows booking data to be sent from Naked Bookings for displaying in your Google Calendar, while a two-way sync allows you to add events to your Google Calendar and appear in your Nabooki calendar. Two-way sync also allows for booking changes in your Google Calendar to instantly take effect in your Nabooki calendar.

Events added via Google Calendar will appear as busy periods, preventing further bookings in those time-slots.

To activate one-way sync only select a Google calendar from the drop-down list in the blue box.

To activate two-way sync
you must select the same Google calendar from the drop-down list in both the red and blue boxes.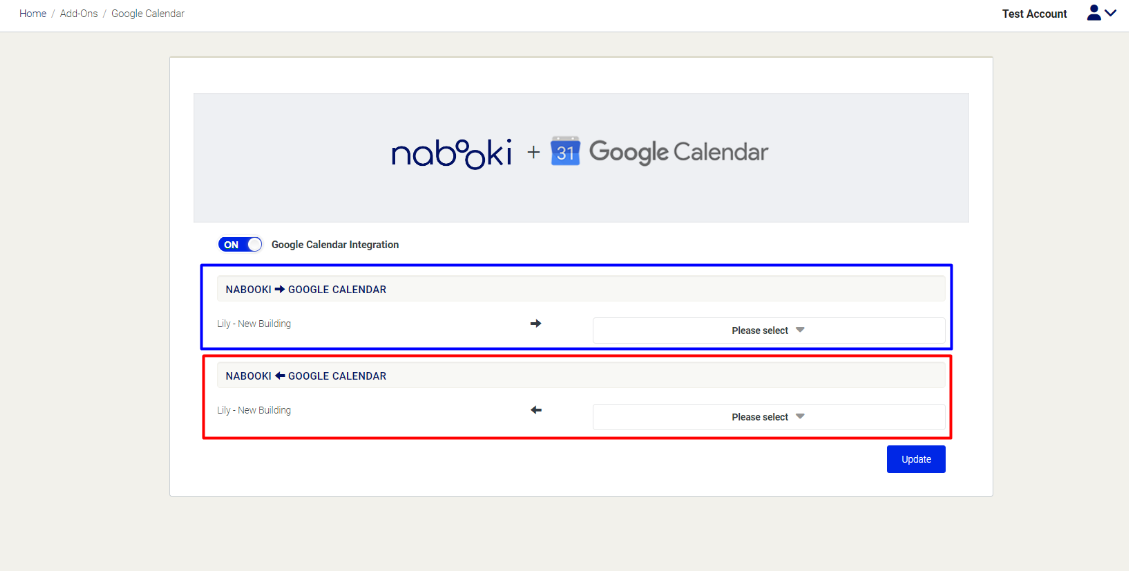 Each staff & resource will be listed in the left column. When a staff or resource is assigned to more than one location their name will appear more than once but identified for each location. Staff needs to share their calendar to the main email address in the account in order to get their email address in the email list above.

You are not required to sync each and every staff & resource listed
Recurring events or events with different state and end dates in Google Calendar are not supported in the nabooki calendar
Need assistance? Our dedicated support staff are here to help you.
To create a support ticket,
click here
.
Live chat: Start a live chat with our customer support team by clicking on the '?' button in the lower right corner.
Related Articles

How to edit Google Place ID

If your Google Place ID is not set correctly, you can manually update it by accessing Setup > Location > Edit Once you hit on Edit, you do not need to copy the actual code from your Google Business Profile. You can easily hit Edit and put your ...

How to set up staff

Setting up staff is a crucial aspect of operating the booking system. Adding staff will enable these members to receive online bookings and you will be able to manage staff capacity efficiently by having visibility to their bookings. Adding an email ...

How to add your Google Rating and Reviews

Now, Google Reviews can be shown (optionally) alongside your Nabooki ratings and reviews. Having Google Reviews available is helpful for potential customers looking to know more about the services and to see what others have thought before booking. ...

How to set minimum and maximum numbers for group bookings

Please note: Setup must be complete and the service must be already setup. A service, service option or sub-option for multiple booking services can have a minimum and a maximum number of people assigned to it. This is a great way to offer group ...

How to set up taxes

Please note: Account set up must be complete before setting up taxes. Setting up taxes is useful when wanting to utilise nabooki's inbuilt invoicing feature and for setting up taxes that may be required for specific services. 1.) Using the left ...