How to setup multiple business locations

Please note account must be completely setup to allow you to add another location.
You can add multiple locations in the business details section with specific information for each location.

Using the left navigation menu, go to >
Setup
>
Business Details
>
Locations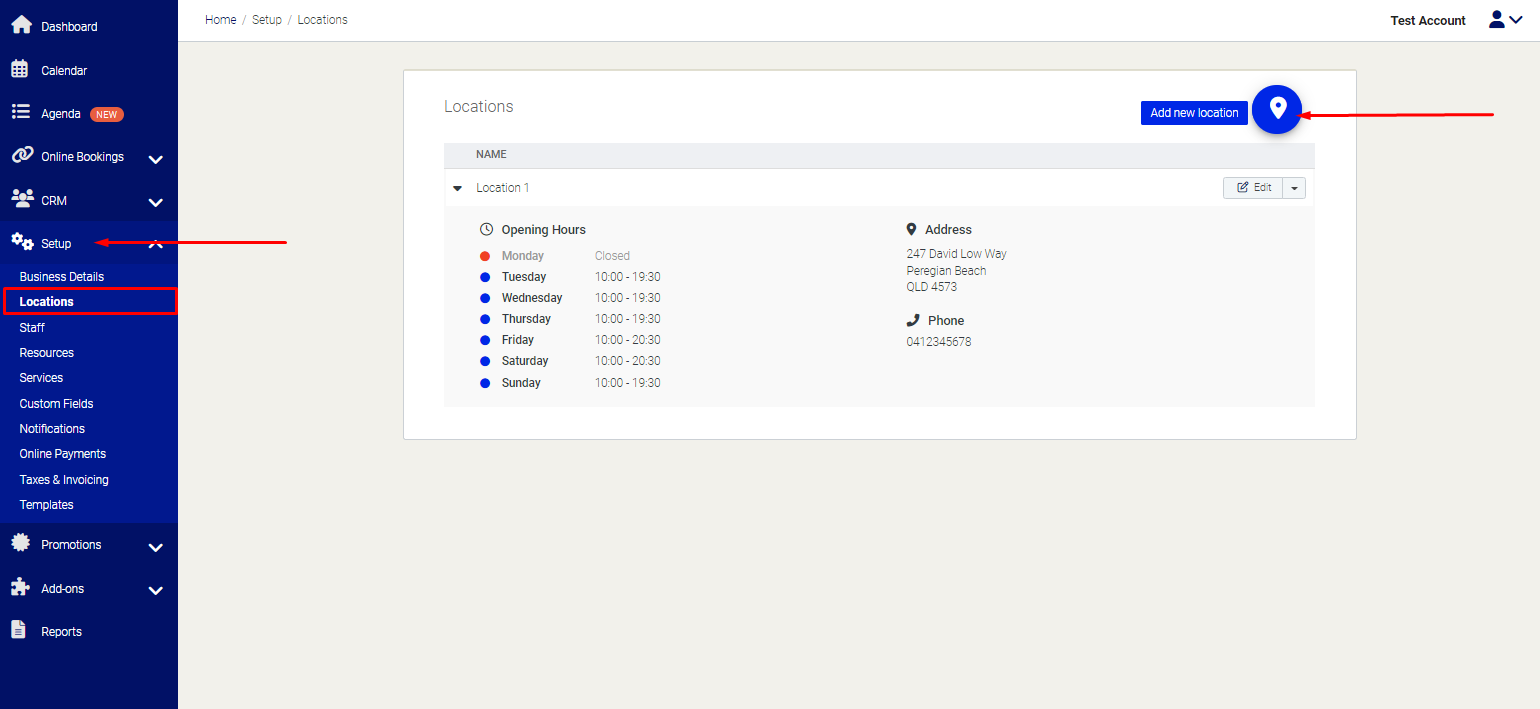 When setting your location(s), make sure to include the location where the service is offered.
This may be different from your business location. (For example if you host an event, the event location may be different from your business address).
The location you define is what customers will see on their booking confirmation.


Tip: If you have multiple locations, include the location in the title of the service name for customers to easily recognize while making a booking.
Need assistance? Our dedicated support staff are here to help you.
To create a support ticket,
click here
.
Live chat: Start a live chat with our customer support team by clicking on the '?' button in the lower right corner.
Related Articles

How to manage the hours of staff members who works in multiple locations

Please note that this article requires the staff member to be completely set-up within the booking system and the location of the staff members defined for all required locations. In the staff section, you can define your staff member's specific ...

Business Details

The Business Details section includes information about your company's basics, including its name, type, logo, website, and any relevant links. Using the left navigation menu, go to > Setup > Business Details to update these information. Websites ...

How to setup price categories

Price categories can be used on group or class bookings to set variable rates based on the participant's concessions. Using the left navigation menu, go to > Setup > Services > press the '...' button > Edit > General tab. Note: Please create the ...

What are online, physical, and mobile locations?

Online, physical and mobile location types vary how the service details are displayed within the customer confirmation email and within the diary. If you provide a service which requires you to travel to different locations, you can click the Mobile ...

How to setup and customize your invoice template

Please note: Account set up must be complete. Nabooki gives you the ability to customize your invoice branding, add static text, hide/show business details on invoicing. Using the left navigation menu, go to > Setup > Taxes & Invoicing > Invoicing ...