Sync invoices with QuickBooks
Automatic Sync
When your nabooki account is connected to QuickBooks and QuickBooks tax code is assigned to your service(s), all future invoices will automatically sync to QuickBooks.


If an invoice gets updated in nabooki, updates will be automatically synced to QuickBooks.
Manual Sync

It may be necessary to conduct a manual sync in the following scenarios:
The invoice was generated before connecting your account with QuickBooks
The invoice was generated before assigning the QuickBooks tax code to service

To manually sync with QuickBooks, click on the 'Sync QuickBooks Invoice' button located in the lower right corner of the invoice page.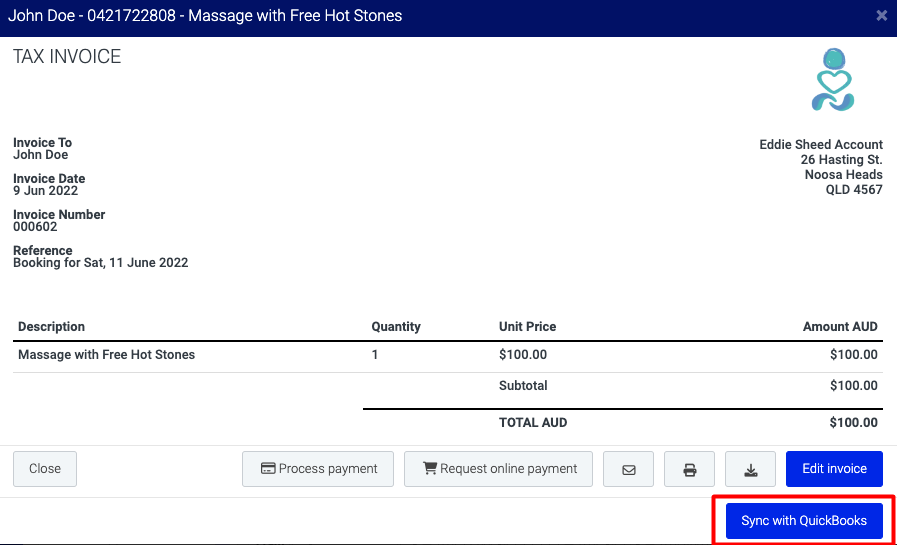 Please note: This button will not be shown if the invoice has successfully synced with QuickBooks.

Need assistance? Our dedicated support staff are here to help you.
To create a support ticket,
click here
.
Live chat: Start a live chat with our customer support team by clicking on the '?' button in the lower right corner.
Related Articles

How to connect your nabooki account with QuickBooks

Please note: Account set up must be complete To connect your nabooki account to QuickBooks, you need to have an account with QuickBooks Online. Don't have a QuickBooks account? Sign up! 1. Integrate nabooki with QuickBooks Online In nabooki, using ...

How to disconnect your QuickBooks integration

To disconnect your QuickBooks, using the left navigation menu, go to Add-ons > QuickBooks from the main menu and click the 'ON' switch to toggle it to 'OFF' or click Click here to disconnect. Confirm the disable action by clicking on Disable. You ...

How to set up Google Calendar

Nabooki allows for two-way sync with Google Calendar so you can continue to manage your business while away from the office. Once activated, all bookings in your Nabooki Calendar will be displayed in your Google Calendar and updated in real-time. Any ...

Integrating your Nabooki Account with Rezdy

Rezdy integration with Nabooki enables an automatic sync of Rezdy availability into Nabooki and Nabooki bookings into Rezdy. As soon as your booking is added, changed or cancelled in Nabooki, the system will automatically attempt to create or cancel ...

How to raise an invoice

Invoices will be raised automatically if a partial or full prepayment is taken at the time of booking. You can raise an invoice manually for a booking if there was no prepayment and service price is greater than zero. Manual Process Open the relevant ...