How to enable, view, integrate and manage customer reviews
Customer's feedback can be enabled and a request for feedback will be sent via email to the customer once the service is finished. This was created to see the feedback of customers on how they found the service or product. This can be used to help your business to improve its level of service.
Enable customer feedback

To enable
customer feedback email,
u
sing the left navigation menu, go to >
Setup
>
Notifications
>
Customer Notifications
tab > tick the checkbox
Send customer feedback email.
You can also set the time for feedback email.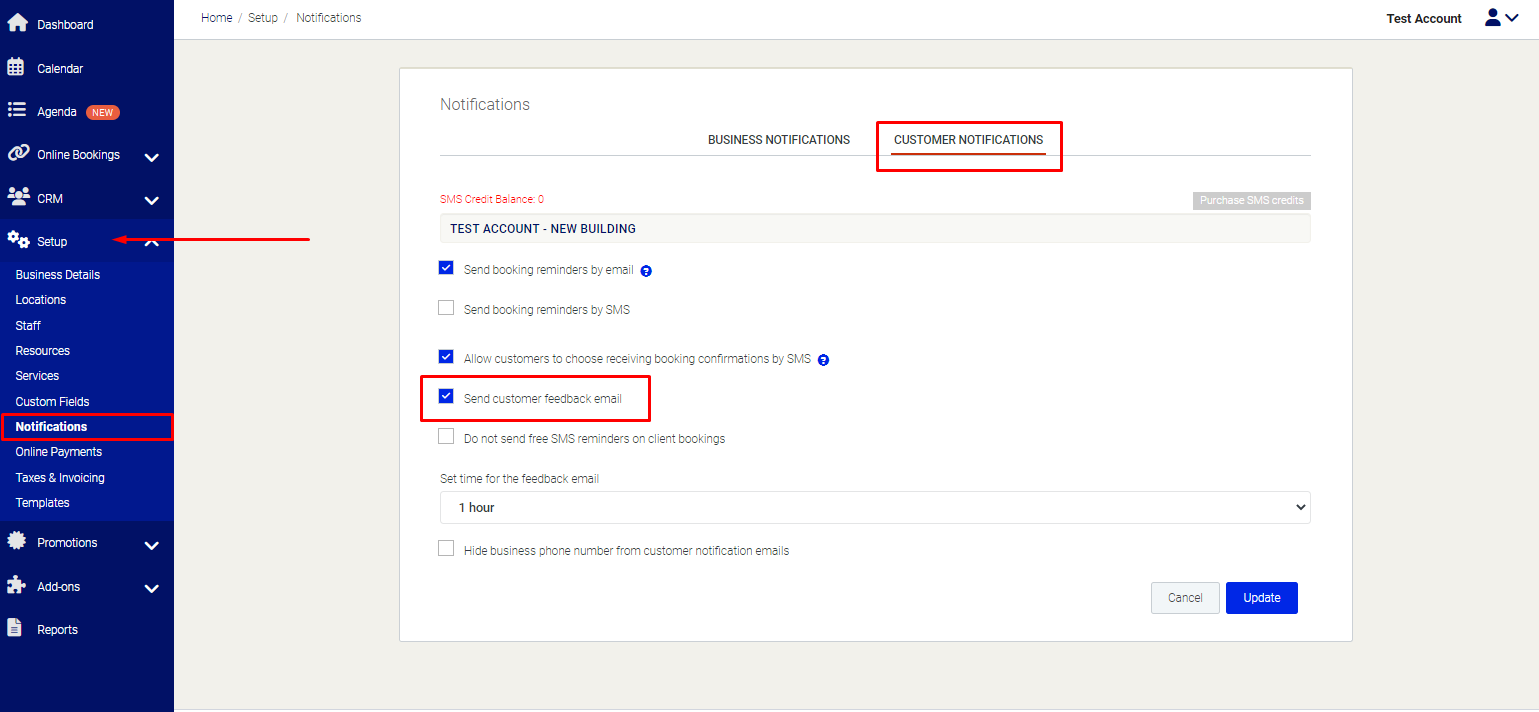 Please make sure to hit
Update
to save changes made.
View customer feedback

If a customer answered a customer feedback email, you can find this by going to the left navigation menu, go to
CRM > Reviews.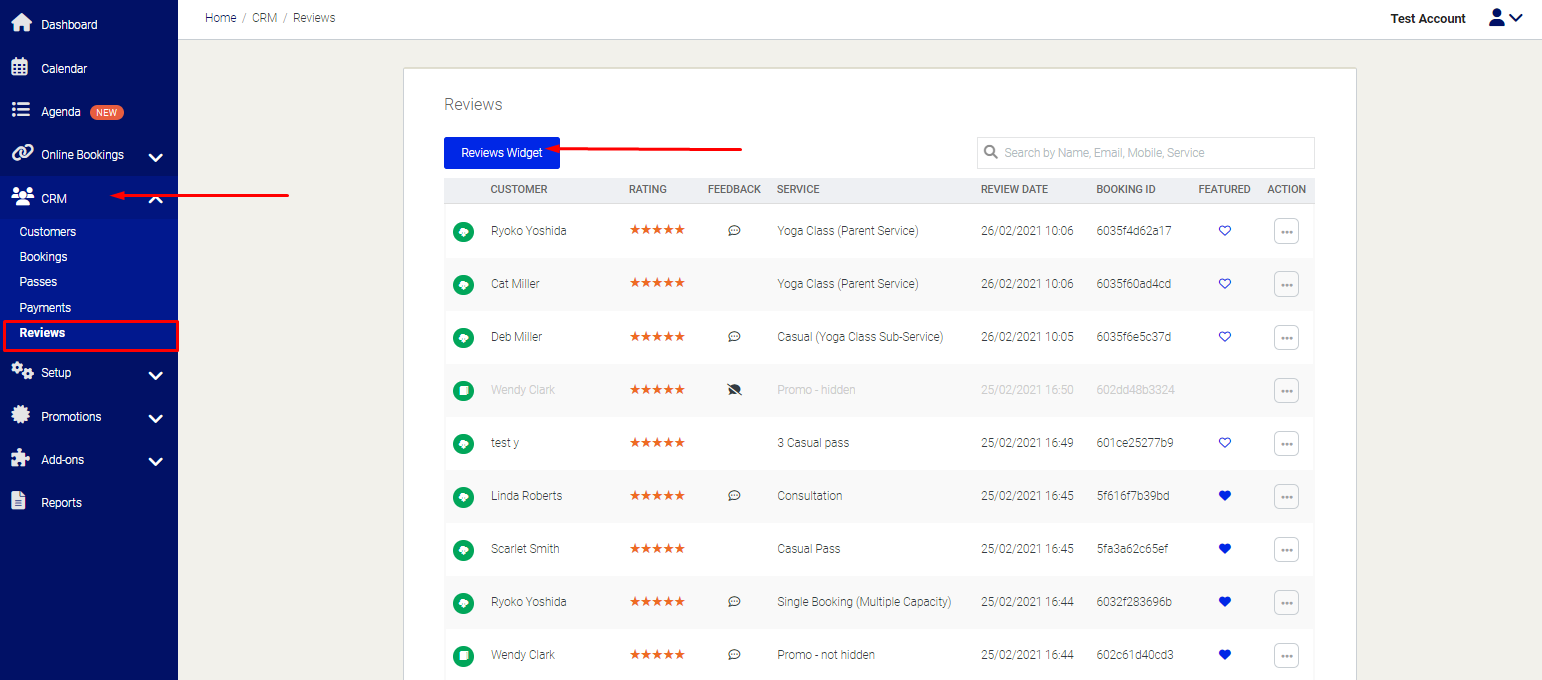 Alternatively, you can view feedback left by customer within your business email inbox.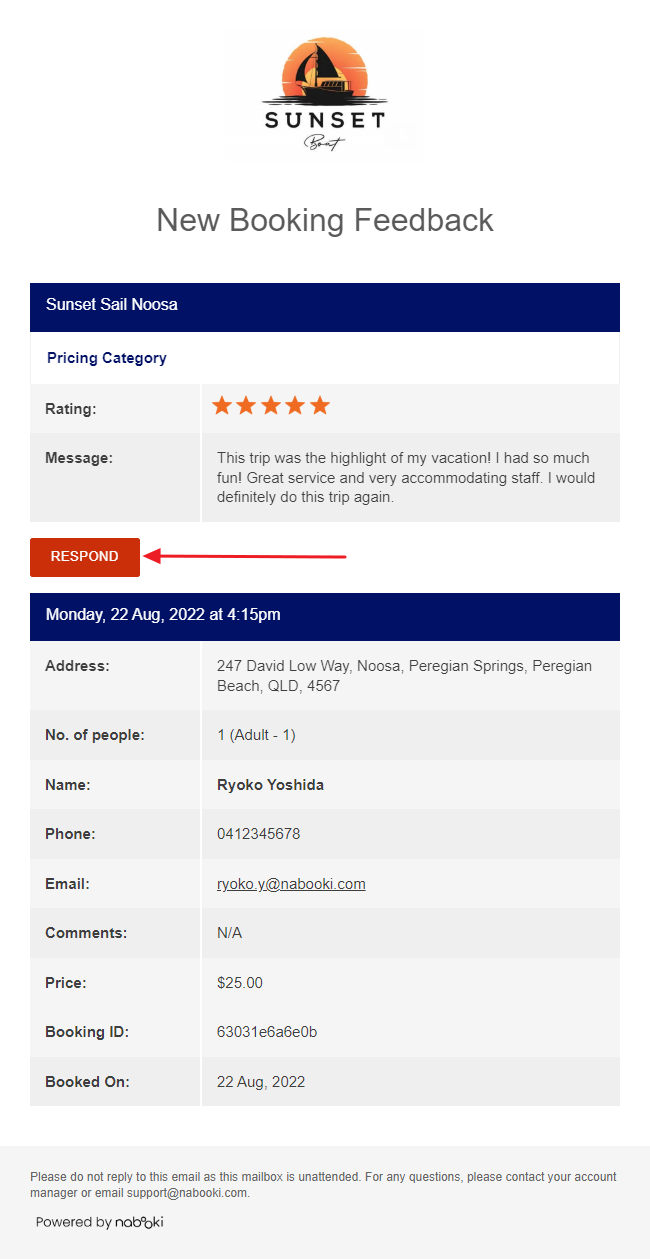 Integrate customer reviews on website

To integrate reviews on a your website, u
sing the left navigation menu, go to >
CRM
>
Reviews
> click on
Reviews Widget
button >
Preview
>
get link on the
web address bar
as show on the image below.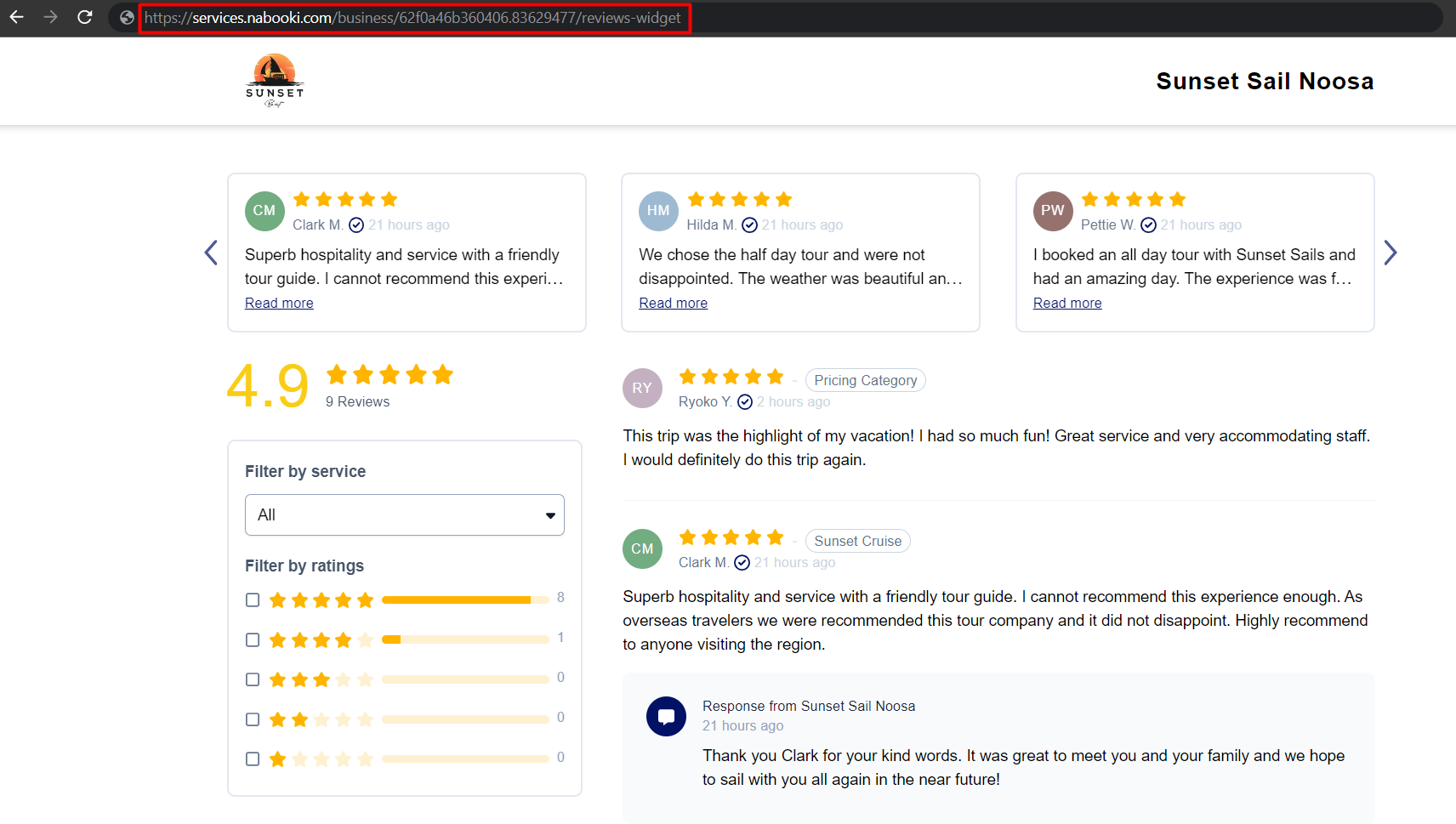 Alternatively, u
sing the left navigation menu, go to >
Online Bookings
>
Website Integration
> change
Widget Type
to
Reviews Widget
> Add the following code to your website.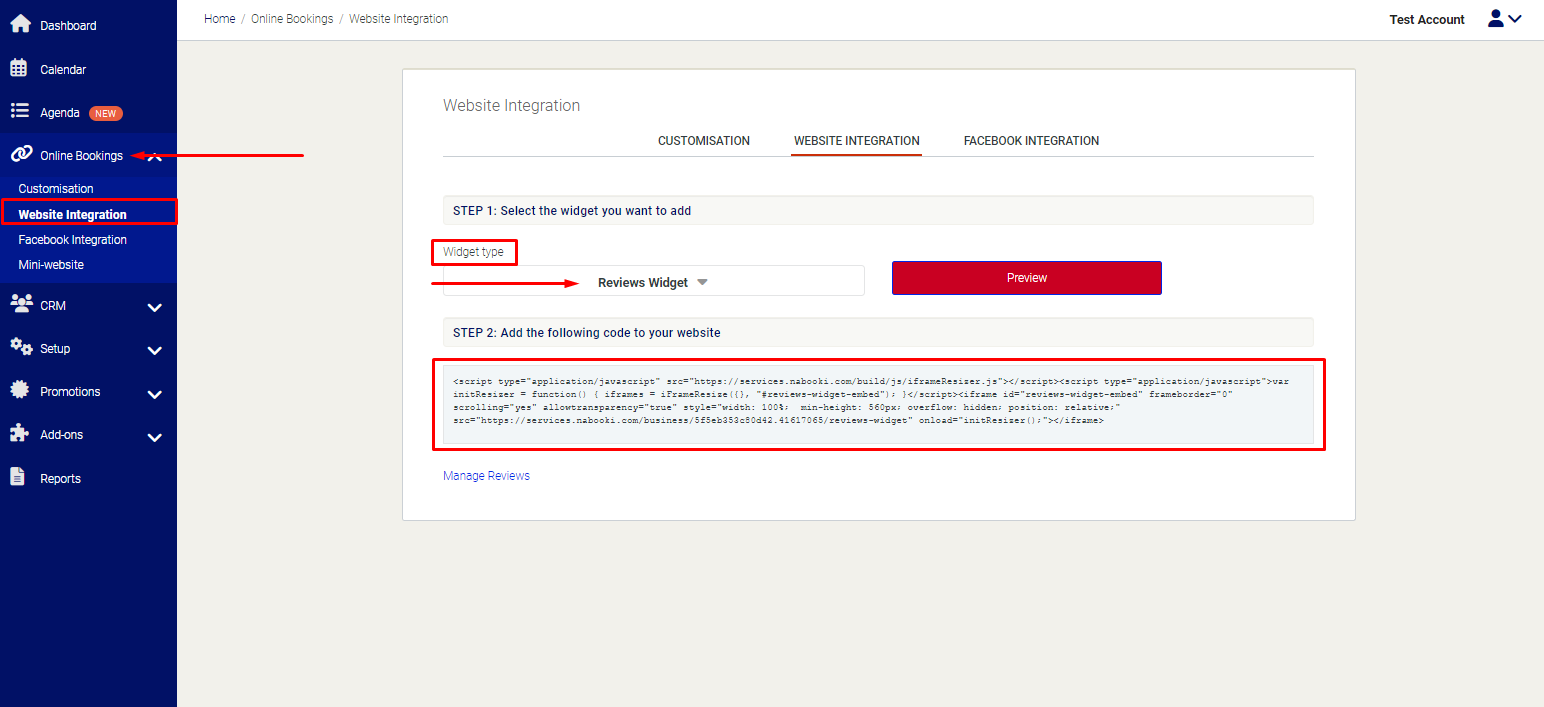 The code required to add the Reviews Widget is an iframe.


If you have access to edit the content on your website using a Content Management System such as Wordpress, Wix or Weebly, you may be required to add a plugin to add the iframe code, otherwise, seek assistance from your web developer.
Manage Reviews

Feature a review
(♥) - this heart button will allow you to mark a review as featured for it to standout among other reviews.

View Review
- this will direct you to the booking ticket displaying the review left by customer.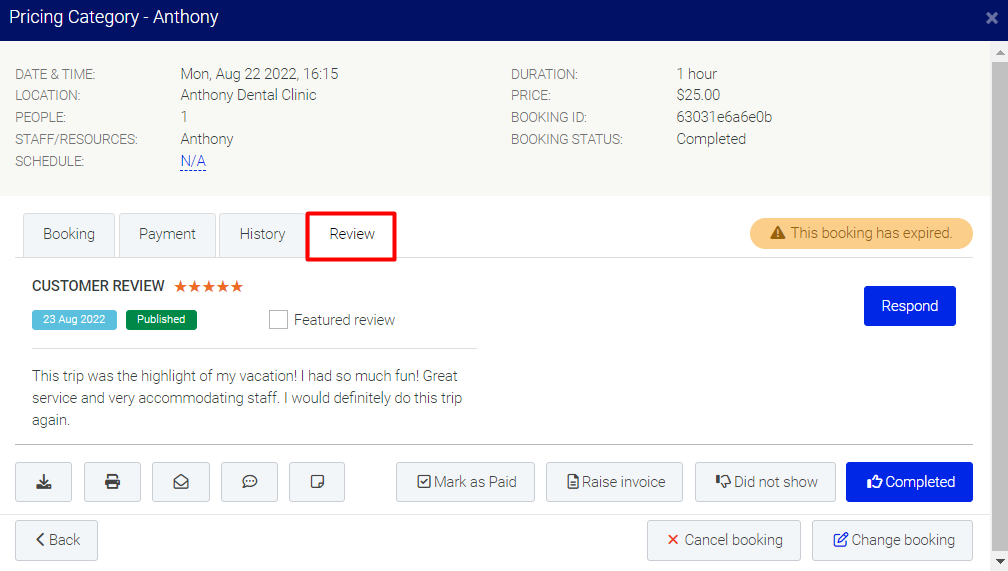 Need assistance? Our dedicated support staff are here to help you.
To create a support ticket,
click here
.
Live chat: Start a live chat with our customer support team by clicking on the '?' button in the lower right corner.
Related Articles

How to disable customer reviews

Feedback isn't always needed for businesses. This is why it can be disabled if necessary. There are two ways to disable customer feedback email: For all customers Using the left navigation menu, go to Setup > Notifications > Customer ...

How to respond to customer reviews

Reviews from your customers can provide valuable feedback for your business and your online reputation can be strengthened by responding to these reviews. A simple reply to a customer review, can help you engage and build customer trust. This will ...

How to add your Google Rating and Reviews

Now, Google Reviews can be shown (optionally) alongside your Nabooki ratings and reviews. Having Google Reviews available is helpful for potential customers looking to know more about the services and to see what others have thought before booking. ...

How to enable the waitlist feature

A booking Waitlist, allows your business to manage and automate filling empty spaces when customers move or cancel. This allows your business to maximise profits by filling empty spaces. When your class (or event) has sold out, use a waitlist to ...

Customer Login Feature

This article will outline our feature that allows customers to log in to their own individual profiles, which will contain their existing bookings and other useful features. This great feature can be used as a central hub for all of your booking ...