Please note you will be required to add your account details from your supported payment gateway provider before you can apply payment settings for each required service.

Applying online payments and deposits to services
The Payment Settings is located in the Booking Preferences tab of each service, this means you can apply different payment options to each service.

Using the left navigation menu, go to > Setup > Services > press the '...' button > Edit > Booking preferences
Select Yes next to Accept payments for this service to display the payment options as shown below.

Apart from taking the full payment at the time of booking, you can also receive a 10%, 25% or 50% deposit by selecting the relevant Prepayment size.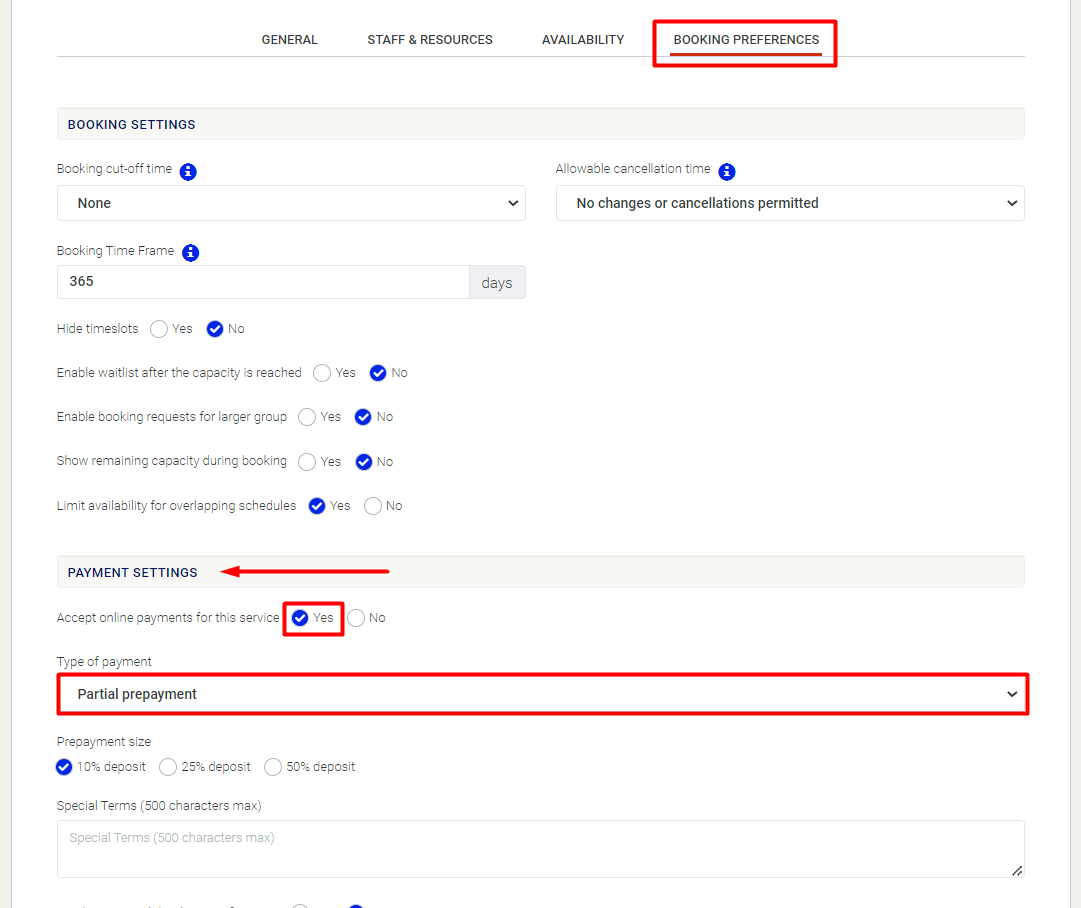 Special Terms
Use this section to inform your customers of your payment terms such as your refund policy or your final payment requirement if a deposit is collected.

The terms are displayed on the payment screen at the time of booking.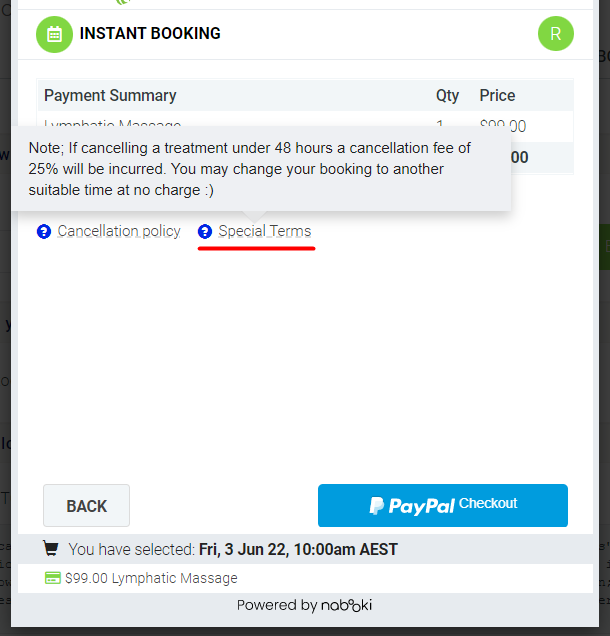 Cancellation refunds
Restricted

Your customers will only be able to change or cancel limited details, such as date and time.




Customers will not be able to change a service or option, as such other service or option may have a different price. No refunds will be issued to customers when they

cancel their bookings (customers will be able to re-book themselves without having to pay again).
Unrestricted

Your customers will be able to change or cancel anything in relation to their bookings, including changing the service, adding or removing people etc.




If your customer cancels the booking (within the permitted time frame), the refund will be automatically issued to the customer.




If your customer changes the booking, they will be required to pay for the service again (the updated price) while being advised of the automatic refund processed for the cancelled booking.




PLEASE NOTE: If your service is set to have multiple sessions, the restricted option will automatically apply.
Contact Support
Need assistance? Our dedicated support staff are here to help you.
To create a support ticket,
click here
.
Live chat: Start a live chat with our customer support team by clicking on the '?' button in the lower right corner.