How to add an image for your service
You can upload an image related to the service you offer which will be displayed within the booking tool.

Using the left navigation menu, go to >
Setup
>
Services
> press the '
...
' button >
Edit
>
General
tab >
More details
>
Image upload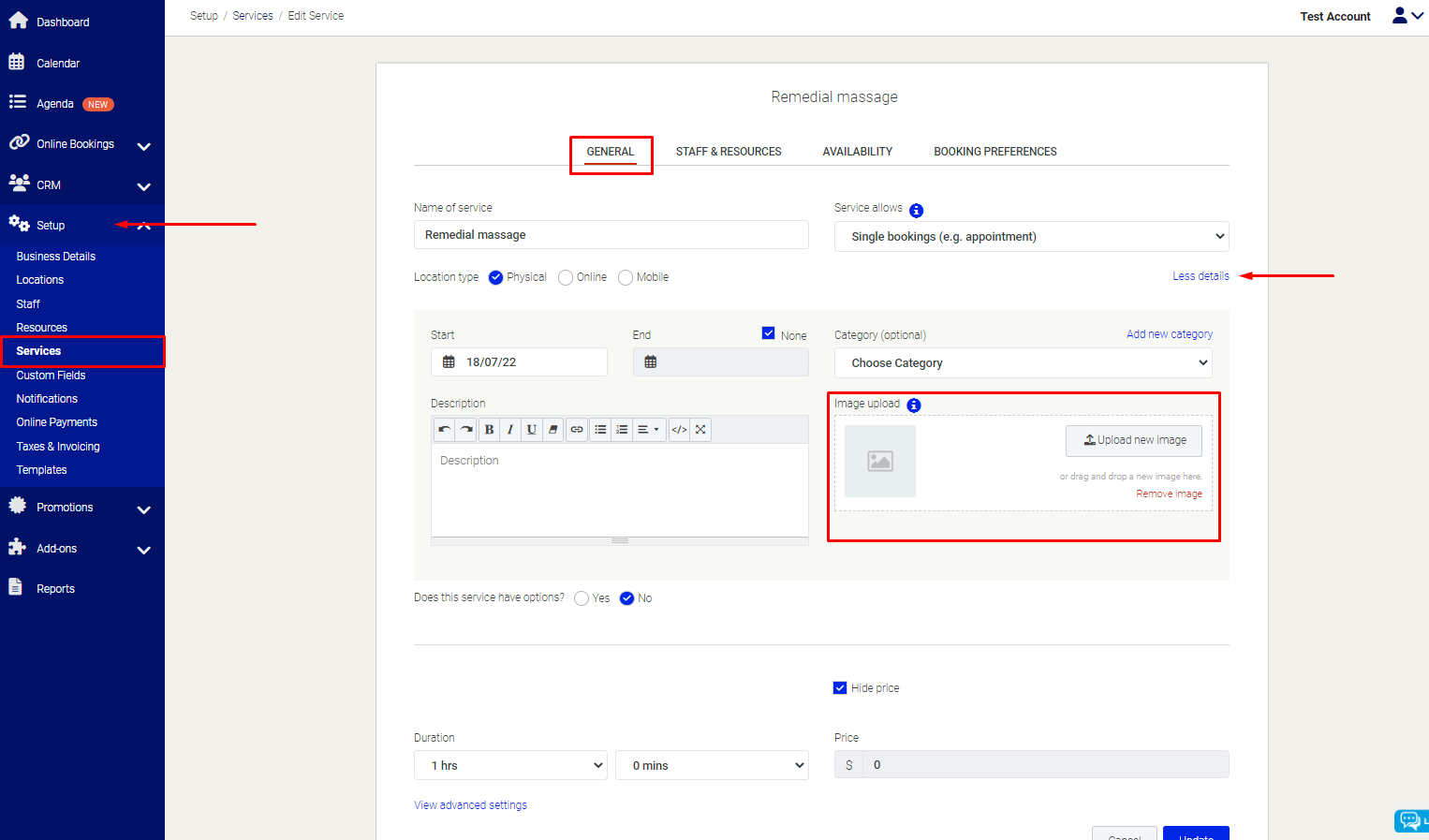 Please note that description must be added if image will be uploaded as image won't display if description field is blank.
Related article

Need assistance? Our dedicated support staff are here to help you.
To create a support ticket,
click here
.
Live chat: Start a live chat with our customer support team by clicking on the '?' button in the lower right corner.
Related Articles

How to add a service

Each business is different and nabooki is built with the flexibility to meet a wide variety of requirements across the service industry. This article will cover a basic service setup which is great for first time users and most business operations. ...

How to add a sub-service

Please note a Parent service must be completely setup. Set service allows to Multiple bookings, set the capacity for the service and duration. Ensure Invisible online is selected as the parent service is not bookable. Using the left navigation menu, ...

Advanced settings in creating service

Click here for the main article - How to add a service. This article will cover advanced setup features for businesses requiring further customization to suit their business needs. Adding options Each service can have options if needed. Adding ...

How to add custom fields

The default data collected from your customers at the time of booking is their first name, last name, email address and mobile phone number. This data is collected and stored in your CRM for easy reference, reporting and marketing purposes. Custom ...

How to add new session?

Creating a service that allows for multiple sessions allows customers to purchase two or more visits upfront to be booked either all at once or over a period of time, as required. The number of sessions included can be a defined value or unlimited, ...